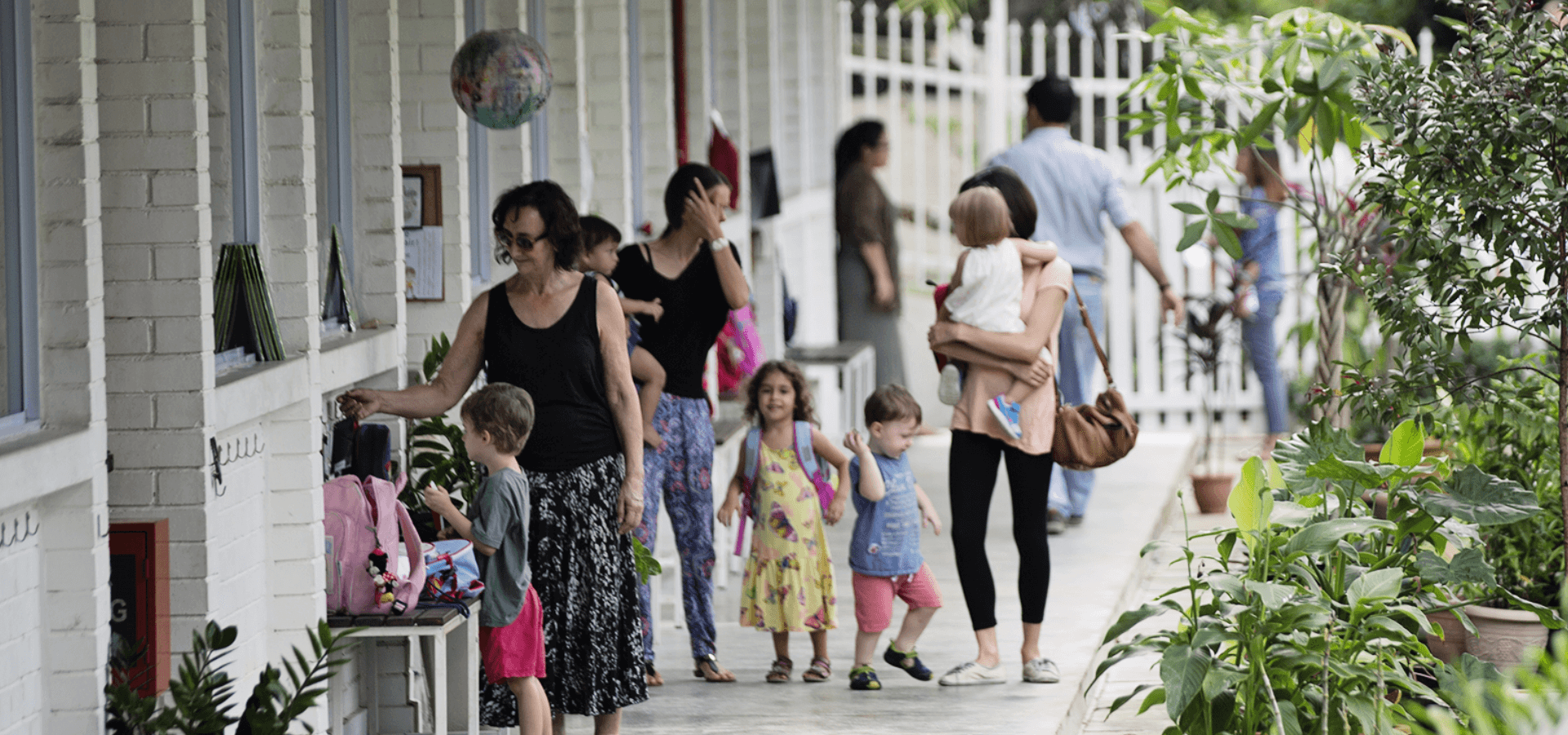 Manasseh Family, Jordan (4 Years)

Blue House is everything we hoped for our son's first school. We were thrilled when we heard they opened in the East. We feel so comfortable dropping our son off every morning knowing that Blue House is in line with our parenting values. Ms.Shobah and the teachers are incredibly warm and nurturing and we feel confident that our son is safe and very well cared for. The staff takes pride in creating an environment that is homely and allows for lots of imaginative play. This is the perfect school for parents looking to encourage curiosity, independence, and creativity in their children. We have also made some wonderful friends through the school. We feel very proud to be part of the Blue House community.

Parker Family, Agnes and Aimee (4 Years and 18 Months)

We have a 4-year-old girl called Agnes and an 18-month-old girl Aimee in K1 and PG at Blue House Kay Siang. We selected the school because of the spacious outdoor garden, the small-ish scale of the school, and of course the Reggio Emilia approach that we have always been very fond of.

Our children love their friends and teachers and there is always art & craft that helps to promote fine motor skills, learning about the world on weekly based themes, outdoor playtime, and sports time (scooter/bike day, Joysoccer). For younger ones, there is singing during circle time, free play with blocks or loose parts, reading books, drawing/painting/playdough and messy play outdoors. We like play-based and kids-led learning. Our girls spend so much time outside in the sun with trees and plants around them, they are lucky to have a natural environment

They also conduct parents' evenings twice or 3 times a year, so we could meet up and mingle with each other.

Lastly, the educators did a fantastic job by being caring, and inclusive; even the admin lady, security/handyman uncle and the cleaning lady.

Furukawa Family, Heitaro (5 years)

Heitaro attended the Infant & Toddler Atelier for a few months and formally joined Blue House in October 2018. During our school tour, it had just stopped raining and we saw beaming faces and cries of joy from children playing in the muddy sandpit. The scene stirred our souls, reminding us of what childhood is all about. We also liked the school's philosophies; for instance, they don't have a uniform because they believe clothing is an important means of self-expression. All spaces in the school are also beautifully decorated and full of warmth, with a welcoming and peaceful atmosphere. We knew that Heitaro would have a happy childhood here.

Unger Family, Penny and Harper (4 and 1 years)

Blue House was the only school I visited where its philosophy of education matched its execution. It fully embraces the Reggio Emilia approach, going as far as to allow the essential questions that kids investigate each term to be generated by the children themselves. Teachers show up as observers and collaborators rather than directors of play. Every decision is made with a focus on the children. Also, the facility is beautiful and feels like a magical oasis each time I visit.

Arcese Family, Felix and Milo (4 and 2 years)

Our children are always eager to go to school each day because of the fantastic teachers that Blue House has. From the diverse mix of international and local staff, it is so lovely to see Felix and Milo make meaningful connections with both their homeroom educators. I genuinely feel as though every teacher takes a deep interest in each child, helps nurture their curious spirit, and continuously creates opportunities for them to explore their passions & interests.

Newman Family, Ayla and Asher (4 and 2 years)

Both children attended Blue House Infant & Toddler Atelier playgroups since they were babies. They were both really happy exploring the indoor atelier environment and the outdoor spaces of the school and it felt like it was a natural transition to join the preschool. We were looking for a positive atmosphere where the children could enjoy learning. They both settled extremely well with the excellent support of the teachers who have a passion for stimulating and inspiring children, creating a homely and exciting learning environment. We wanted our children to be encouraged and free to be themselves.

Our youngest absolutely loves the messy sensory experiences with paint, sand, rice, coffee granules, orange peels, feathers and glue. He goes through at least two changes of clothes per day! We're so grateful that he gets to experience the joy of experimenting with these materials! Our daughter is currently interested in counting, numbers and shapes so she likes using Unifix cubes and geoboards. Her favourite part of the week is a tie between the outdoor water play and walks to the field. We also look forward to cultural celebrations such as the MidAutumn Festival lantern walk and making mooncakes.

Yang Family, Neleh and Leneh (5 and 3 years)

It was important for us to pick us a school that would be understanding of the transition from being at home in L.A., to moving to a new country, meeting new friends, and attending a new school. Prior to picking Blue House, we toured many schools but knew in our hearts we wanted a Reggio Emilia-inspired school. We think the philosophy aligns with our parenting style! We prefer programmes that are child-led and research-based, especially at this age. We think that children learn emotional intelligence through play, develop confidence and learn problem-solving skills. It also teaches them how to cooperate with other kids and stimulates creativity. Children learn so much through play and when they learn based on their interests, they truly excel.

Sarah & Jeremy, parents of Zachary

You can just see that every single day, his vocabulary improves. I often remark to Sarah, "Wow, he must have learned that in school," because we're not sitting at home every day teaching him new words. He picks up stuff so quickly, so clearly, it's the interactions in school.

Trang & Kien, parents of Maxwell

Children can be themselves, and they are appreciated and encouraged to try many new things without being scared or without being told by adults what they can or cannot do. A good education is where you put them in the right environment without so much interference.

Kathryn & Saxon, parents of Kipling

One of the things I like about Blue House is the level and depth of communication that we have with the community, and I really do feel part of this great Community that's part of the school.